As we celebrate Presidents Day 2018, there's evidence of forward momentum for our nation. Tax reform and ongoing deregulation are meaningful steps towards rolling back the administrative state. Originalism is making a comeback in the Federal courts with the appointment of a cohort of new judges who are already taking steps to re-establish our country's commitment to constitutional governance. The economy is showing signs of accelerating growth.
As conservatives, we're owning our responsibility to protect and preserve American values. And though we can feel heartened by our country's direction, now is the time to expand our conservative philanthropic investments even further in support of American liberties and ideals. The challenge will be—as it has been for quite a while now—to engage an increasingly fragmented nation.
With a continued reduction in government overreach, there's a growing leadership gap that must be filled. America needs informed citizens—active philanthropists, engaged volunteers, and visionary non-profit leaders—to step into that gap to advance civil society and highlight the impact that individuals can have, working together at the local level, to strengthen families and community.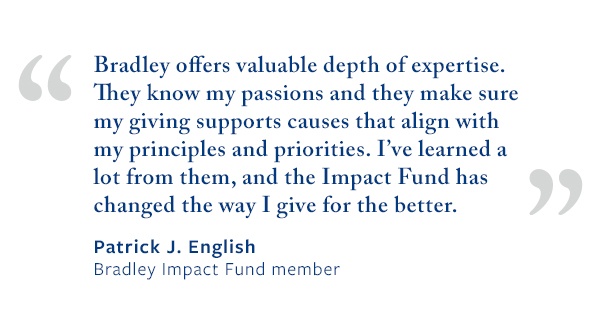 Bradley Impact Fund donors seek to fill this leadership gap by investing in the ideas, policies, and local-level leaders needed to foster a thriving civil society of well-informed citizens. Together, we can expand our efforts to embrace community non-profit organizations that advance freedom and cultivate the richness of community and culture that are the basis of a well-lived life.
There's more to learn about filling the leadership gap in our latest Impact Brief.