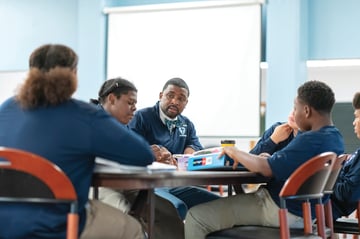 More Milwaukee students than ever are getting ready for classes this fall at high-performing schools as we approach the 30th anniversary of school choice. These are engaged students, as evidenced by the Milwaukee Parental Choice Program's (MPCP) strong track record for shaping students into informed citizens committed to their communities and their country.
However, despite data which demonstrates the long-term success of school choice, we're at a crossroads in the education reform movement. At the heart of the debate is not whether our current system is failing both students and parents - which is certainly is, but identifying the best approach to improving educational opportunities for all students, and the right approach for implementing it.
K–12 education reform has been a consistent focus of The Bradley Foundation for three decades. It is a passion for many in the growing Bradley Impact Fund donor community, too. We're working in cooperation to address four critical school choice challenges:
Attracting and retaining strong teachers and school leaders,
Making suitable facilities available for top-performing schools' expansion,
Supporting concentrated efforts to engage parents with the education options available for their children, and
Formulating and promoting policy ideas and institutions to advance parental choice in education.
Education is vital in sustaining an informed citizenry capable of carrying forward the principles and ideals that have made America exceptional. It is a foundational step on the path to the American dream. For more on this critical issue, please take a few moments to read the recent Wisconsin Journal op-ed piece by Bradley Foundation President Rick Graber, "Wisconsin Must Continue to Lead on School Choice."


Be sure to browse through the Summer 2019 Bradley Impact Brief as well. Our focus is the K-12 landscape in Milwaukee and across the nation. You'll meet Kevin Festerling and Shawn Sprewer, dynamic leaders of Milwaukee's nascent Kingdom Prep Lutheran High School, in The Future is Now. Program Officer Jason Crye shares The Bradley Foundation's perspective on the value of a ground-up approach to K–12 education in On Point. Learn about the Center for Urban Teaching (CfUT), a grant recipient committed to solving urban teacher shortages by recruiting and preparing high-quality teachers through innovative programming.

There's lots of good happening with the school choice ecosystem in Milwaukee, and plenty of opportunity for creating positive impact for students, families and Milwaukee as a leader in school choice.