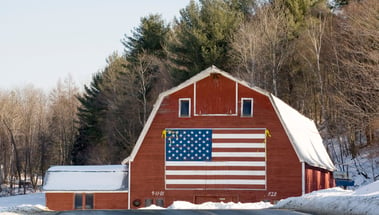 I can't help but think there's a reason to the order of the marquee events in November: Election Day, Veterans Day, Thanksgiving. This election season has been a tough one on our country. In our increasingly polarized society it's easy to lose sight of the fact that America is the freest and most peaceful country in the history of the world, and that our democratic process, rule of law, and peaceful transfer of power is alive and well (though admittedly weathering a particularly nasty storm). American Exceptionalism, catalyzed by our founding fathers and preserved by citizens who love their country, has given us this gift. On Veterans Day, we remember why we have those extraordinary gifts—because men and women continue to serve to protect our rights. On Thanksgiving, we pause in gratitude for the blessings we have as Americans.
At the Bradley Impact Fund, we believe there is a way forward for reducing the divisiveness in our country. It lies in standing true to our principles, while finding common ground in support of our country. Our vision and mission guide us in supporting thoughtful ideas and policy solutions that seek to preserve and protect freedom—for individuals, families, and markets. We must support individuals and groups in our community who can shift the emphasis from our differences and work together to strengthen communities and create a thriving civil society. That is our common ground.
Our Veterans Day issue of the Bradley Impact Brief shares stories of people like Bradley Impact Fund donor Ron Krizek and nonprofit organizations like Sherman Phoenix who are working to help people help themselves. This theme wove through the 2018 Bradley Impact Conference, where panelists shared the importance of public policies and grassroots non-profit organizations working together to empower people to build security for themselves and their families, and to support their neighbors and friends in living a free and happy life. This year's conference energized a growing donor community, including our newest Board member Phil Prange, that's already making smart investments in conservative policies and ideas. All of these ideas and activities reduce divisiveness by helping people of all walks of life engage in the American Dream through effort, education, and opportunity.
American Exceptionalism is truly incomparable. This November, we have three days dedicated to reflecting on our blessings and renewing our commitment to our shared mission to restore, strengthen, and protect American principles and institutions. We will exercise our freedoms, pause to thank those who protect them, and celebrate that which makes us the most fortunate people in the history of mankind.