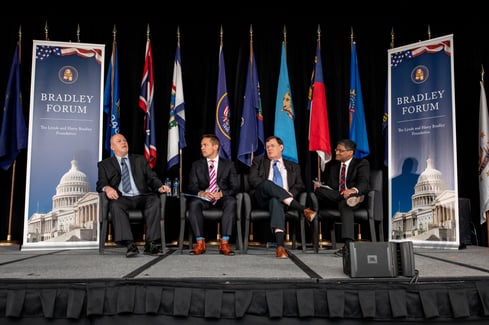 Our friends at The Bradley Foundation hosted a first-ever series of Bradley Forum events in Washington, DC on November 30, 2018. The first Bradley Forum was held at ALEC's States & Nation Summit in Washington, DC. The second Bradley Forum was hosted on Capitol Hill in collaboration with The Heritage Foundation. We encourage you to check out the ALEC panel discussion and post-panel interviews available here.
These, and future forums, are intended to exchange ideas and inform people about The Bradley Foundation and the important work of its grantees, most of which are also funded by generous members of the Bradley Impact Fund donor community.
The first forum, "Opportunities for Free Market Policies in the States," was held at ALEC's annual States & Nation Summit and featured Ramesh Ponnuru from National Review Institute, Henry Olsen from the Ethics and Public Policy Center, Tarren Bragdon from the Foundation for Government Accountability, and Rick Esenberg from Wisconsin Institute for Law and Liberty, who provided an informative and invigorating discussion. Panelists addressed the impact of the midterms on state policy, and ways to move welfare reform and competitive federalism forward.
The second forum, "Opportunities to Advance Free Market Policies in the 116th Congress," was held in the Capitol building and featured Mike Franc from the Hoover Institution, Henry Olsen, Lindsey Burke from The Heritage Foundation, Kent Lassman from the Competitive Enterprise Institute, and Brian Riedl from the Manhattan Institute. Panelists discussed opportunities to advance conservative education, economic, and regulatory policies.
The forums provided an opportunity to inform and engage both state and federal-level legislative leadership and staff on ideas that protect, restore and strengthen American exceptionalism.
If you have questions about any of the Bradley Impact Fund and Bradley Foundation-funded groups represented at these forums, please let me know. As always, thanks for all that you do to support the ideals of liberty and freedom.