Many of us will celebrate this Memorial Day with friends and family by firing up the barbeque, enjoying a picnic, or catching the Indy 500 or a baseball game on TV. You may also take a quiet moment to remember and honor our countrymen who fought for our precious liberty and paid the ultimate sacrifice.
The Extraordinary Bravery of the 32nd Division
In Milwaukee's Red Arrow Memorial Park, there's a marker with the 32nd Division Creed, which reads:

To foster the spirit of the Red Arrow
and to perpetuate in act and deed,
by strong Americanism,
the Memory of our Dead Comrades,
who by their supreme sacrifice
permitted us to return in honor.
The spirit of the Thirty Second Division never dies.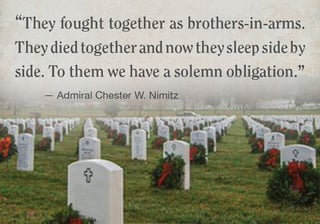 The men of the 32nd were extraordinarily courageous in the face of the worst of World War I. This division of Wisconsin and Michigan young men argued until their original mission – training – was changed so they could fight at the front lines. The red arrow symbolizes their spirited success in breaking through every German line they encountered. Through this they suffered 13,203 casualties, the third most of any division in American history.
As a soldier's wife and mother of a young son, I try not to think of the "what-ifs." I do think of the wives and mothers of the men of Red Arrow Division. It was likely their boys wouldn't come home from war. What, if anything, would have comforted them? Or reassured them that the sacrifices they made were worth it? How can I honor those who gave up everything for me – an American three generations later?
Americanism in Action
The answer is written in their creed: "To foster the spirit of the Red Arrow and to perpetuate in act and deed by strong Americanism…" The Bradley brothers perpetuated in act and deed strong Americanism, and felt honored to do so. They never lost sight of the fact that American exceptionalism allowed them to become successful, and to give back to the community and country they loved so dearly. They understood their obligation to ensure the America they had been blessed to live in was protected, and its founding principles preserved for future generations.
At the Bradley Foundation and the Bradley Impact Fund, we honor not only the legacy of the Bradley brothers, but the sacrifices so many have made so that we may enjoy the blessings of liberty. If you'd like to know more, read our Memorial Day Impact Brief. We never lose sight of the fact that American exceptionalism has made us the freest and most peaceful county in history.