It's starting to feel like spring in Milwaukee. The signs that we may, indeed, have seen the last of winter are all around: daffodils are pushing through the soil, Easter is now a memory, and, of course, my husband and I have been working on our yearly reminder that we live in the greatest country in the history of humanity. Yes, it's income tax time.
Freedom Can't Be Taken for Granted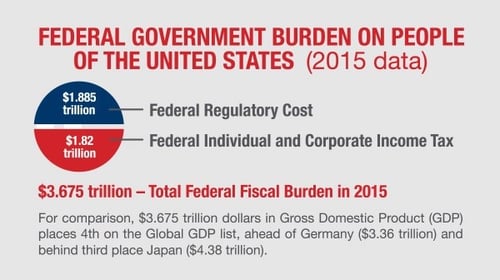 I say this somewhat tongue in cheek – but I actually am grateful for reminders – even if it is paying taxes – of how very lucky I am to be American. I can't help but think about when I've lived and worked in countries that didn't have this kind of freedom, and the effect it had on those citizens. I'm not talking about third world countries, either – I'm talking about my time in Europe. Yes, THAT Europe. The one our friends on the Left hold up as the beacon of all America should strive for.
It was in France and Italy that I saw first-hand the effects that onerous, heavy-handed, big government has on individuals: from the farmer I worked with in Normandy who was told by his local government that he couldn't expand his business overseas because he would have to be reclassified as an exporter, and there were already too many exporters in France; to the Italian government deciding who could have back surgery (average wait time for an Italian to get an appointment with a neurologist: nine months. Average time to surgery: two years.). Though I had a wonderful time in lovely countries, I was grateful to be an American, and when it was time to come home, I felt so blessed that home was America.
Actively Supporting Limited Government
The Bradley Foundation and the Bradley Impact Fund support organizations that are on the front line of critical battles to preserve and protect American freedoms, including free markets and limited government. This work promotes building a more robust independent sector and seeks to curb government overreach into private lives and businesses. If you'd like to know more, read our Tax Day Impact Brief, which highlights:
Organizations that promote tax reform, study the effect of taxes on Americans, and measure which states have the best and worst economic outlooks.
Local Milwaukee groups that seek to grow a culture of independence over government dependence.
Their work is vital to preserving the ideals and principles that make America exceptional.
There's a wonderful song about April in Paris, but there's still no place I'd rather call home than America – even if April is our tax season. I've seen what it's like to live without our precious freedoms, and I know you join me in not taking those freedoms for granted. Together, we fight to preserve our freedoms for future generations.