Today we celebrate Presidents Day. This is a time to pause and remember not only Washington and Lincoln, but all of the outstanding men who led our nation when America needed their wise leadership the most.
These men anchored their leadership in a deep love of America, as evidenced in President George Washington's beautiful farewell address, delivered in Philadelphia on September 19, 1796:
"My feelings do not permit me to suspend the deep acknowledgment of that debt of gratitude which I owe to my beloved country, for the many honors it has conferred upon me; still more for the steadfast confidence with which it has supported me; and for the opportunities I have thence enjoyed of manifesting my inviolable attachment, by services faithful and persevering, though in usefulness unequal to my zeal."
Recommitting to Our Founding Principles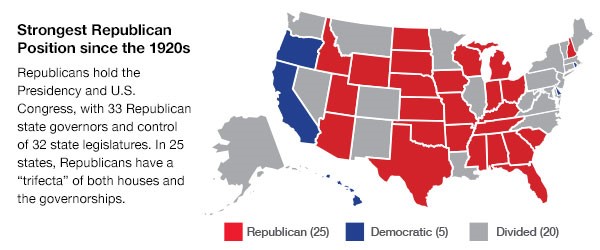 At the Bradley Foundation and the Bradley Impact Fund, we share this passion for America and are encouraged that we have the opportunity to return our country to what our founders intended. With Republicans in control of the federal government, as well as the majority of state governments, we are hopeful that those in positions to make policy choices – the President, his Cabinet, and the Republicans in Congress, as well as governors and legislators at the state level – will lead with our founding principles always at the forefront of their decision making.
While there are many reasons to celebrate our founding fathers with a feeling of renewed confidence, we must also be mindful of our very narrow window of opportunity. The next two years are going to be tough, and go fast. Conservative philanthropists, long investing in the development of policy, are now ready to have their investments implemented into action. Through the Bradley Impact Fund, we invite fellow conservatives to join us in making the greatest positive impact with philanthropic investments.
Bradley invests in an array of highly effective grantees working at the national, state and local levels to revitalize the American Dream. If you'd like to learn more about organizations that are advancing conservative policies to counter the federal overreach of the past eight years, to rebuild trust in our government, and to put our country back on track for a vibrant future, please take a few moments to read the President's Day issue of our Impact Brief.