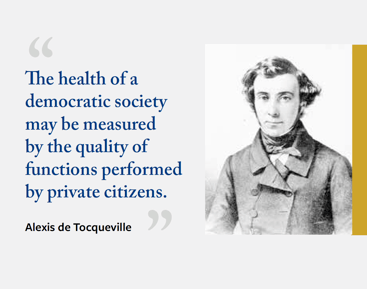 The act of giving can create feelings of joy and satisfaction. But also, some nerves… What if my gift isn't used the way I intended? What if I'm missing opportunities to make a greater impact?
The Bradley Impact Fund is a donor-advised fund that helps donors alleviate these concerns and take intelligent philanthropic risks by helping its members clearly define their donor intent.
Donor-advised funds (DAFs) are the fastest-growing category of charitable giving in the United States. They work like a charitable giving checkbook. When donors contribute to their DAF, they're eligible for a tax deduction in the year of their gift. Those funds are then available to make gifts at the donor's convenience to nonprofit organizations close to their heart.
Last year, the national average payout rate for DAFs was 22.1%1. Some donors give in response to asks they receive; others prefer to proactively seek to support ideas, policies and organizations that are well-aligned with their own personal values and priorities. That's where donor intent can make a strategic difference.
Some of the most frequent questions about donor intent:
Q: What is a donor intent statement?
A: Your donor intent statement is a thoughtful, written document describing your philanthropic aims and objectives. It can be as broadly defined as you like, and it can also narrow in with details about what your charitable giving should not be used for.
Q: Why does a donor intent statement make charitable giving more strategic?
A: A donor intent statement advances strategic philanthropy in two ways. First, the act of creating your statement gives you the time, space, and reason for in-depth thought and discussion about your giving. In reflecting, you may find you feel more strongly about certain aspects of your philanthropy than you realized, giving you clarity. Second, once you've created your statement, it functions as a guiding principle for you to ensure your gifts advance what matters most to you.
If you'd like information on defining your donor intent with support from the Bradley Impact Fund staff, please reach out to us at 414-291-2500 or gconger@bradleyimpactfund.org.
Donor intent is also the theme of our Winter 2019 Bradley Impact Brief. Peruse it today for ideas and stories about donor intent in action.
1. 2018 DAF Report, National Philanthropic Trust