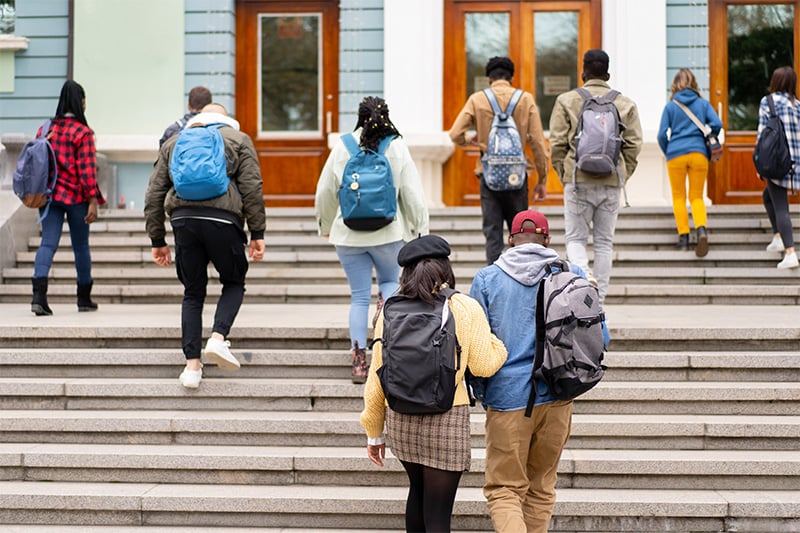 I have spent a lot of time around college campuses, having worked at a university for fifteen years and served on alumni boards. My alma mater holds a special place in my heart, and judging by annual giving numbers, many Americans can say the same. In 2021, giving to US higher education institutions rose 6.9 percent to $52.9 billion—up from $49.5 billion in 2020. Giving from alumni showed the largest increase (10.8 percent), followed by a 9.1 percent increase in gifts from "other organizations," which is comprised largely of donor-advised funds.
"Red Teaching" at the University of Chicago
Should conservative donors be skeptical of giving to higher education? I believe they should, for reasons that aren't very new. Nearly a century ago, Charles Walgreen, namesake of the national drugstore chain, worried that his niece's reports on her studies at University of Chicago sounded dangerously like communism. After meeting with the dean, he dictated a letter to the university's president:
"With regret, I am having my niece, Miss Lucille Norton, discontinue her studies at the University of Chicago. I am unwilling to have her absorb the Communistic influences to which she is so insidiously exposed."
After further conversations and an extended public controversy over the matter, Walgreen established The Charles R. Walgreen Foundation for the Study of American Institutions to foster a greater appreciation of the American way of life. Mr. Walgreen gave the University of Chicago $550,000 (roughly $11 million in today's dollars) for this purpose. Although the foundation ceased operations in 1956, it has been credited with helping the elite university maintain a tradition of free inquiry during a turbulent time.
According to Giving USA's 2021 "Special Report on Donor-Advised Funds," approximately 29 percent of all DAF giving goes to education, making it the single largest share of DAF giving. When considering giving to higher education, we are wise to recall columnist John O'Sullivan's law: "All organizations that are not explicitly right-wing will, over time, become left-wing." But it's unlikely conservatives will stop supporting the institutions they love, nor should they. So how can astute donors ensure their gift will not support ideas antithetical to their values?
Gift Restrictions and Agreements
One way to safeguard against the mission creep prevalent in large institutions is to donate for a specific purpose with a restricted gift. For example, I once worked with a donor who contributed to a Reserve Officers' Training Corps (ROTC) fund on campus. This particular fund had a governing document that specified what expenses were permissible and who had authority over the fund (in this case, a ROTC director that the donor trusted). While this donor was concerned about a leftward lurch at his Jesuit university, he was confident his contributions wouldn't be underwriting it.
Unrestricted contributions, which give institutions complete flexibility in how they use a gift, increased 30.2 percent and represented 7.4 percent of all contributions in 2021. That's great for campus administrators, but perhaps not for a donor's peace of mind. In addition to restricted gifts, donors might consider creating a customized gift agreement to ensure their intent is fulfilled. For instance, one can stipulate that the university must produce an annual report in order to confirm the gift was used as outlined in the agreement.
Giving Strategically
A donor who gives strategically will begin with the end in mind. In higher education, this means not reflexively supporting every campaign launched by one's alma mater. Strategic donors I've worked with tend to act more like venture capitalists in allocating resources in ways likely to help them achieve their own objectives, in addition to the institution's. They consider where their goals and those of the institution are aligned and invest or divest accordingly. They're not moved by appeals for the general endowment fund, which gives administrators considerable rein regarding resource allocations in perpetuity.
As an early strategic philanthropist, Mr. Walgreen used his philanthropy to encourage the University of Chicago to become a better version of itself, and he took steps to ensure that his contributions would be used in accord with his values. Conservative donors today should be mindful of these same considerations when supporting higher education.