With a vision of becoming the best urban Christian school in America, St. Marcus Lutheran School serves more than 1,100 students at its three campuses on Milwaukee's north side. To support the growth and operations of the school, St. Marcus is conducting a comprehensive campaign, Courage to Commit, with a goal to raise $31 million.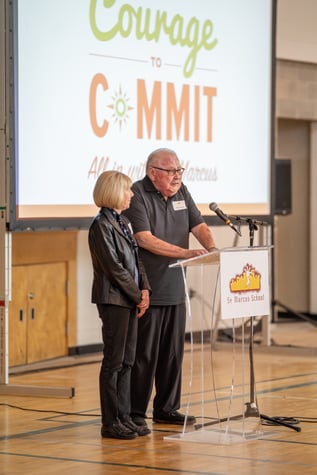 It would be a serious understatement to say that philanthropists Keith Mardak and Mary Vandenberg have left their mark on the greater Milwaukee area.
With significant investments in multiple arts and education institutions, the couple's generosity will meaningfully impact Milwaukee residents for decades to come. And with their recent $3 million matching gift to St. Marcus Lutheran School, Mary and Keith have challenged fellow philanthropists to help raise a total of $6 million in support of St. Marcus School's $31 million Courage to Commit campaign.
"The community stepped up to meet our initial $5 million challenge, helping the school hit its $20.1 million phase two goal. But in conversations with St. Marcus's leadership, we saw a need to increase the challenge grant," said Keith. "With our additional matching $500,000 gift, the expanded $6 million challenge will help St. Marcus more quickly achieve their bold vision for these kids and their families." This investment in St. Marcus is a natural extension of Mary and Keith's work with Boys and Girls Clubs of Greater Milwaukee. "We built an after-school program that's helped over 16,000 kids in seven years. But with a school like St. Marcus, you can have a more profound effect on each child's life." Keith, who began his career as a teacher and continued in music education publishing as CEO of Hal Leonard Corporation, decided years ago that it would never be just about the money. His philanthropic vision includes building communities that are directly involved and invested in the success of the organizations they support. "We focus on large matching grants because they tend to bring in folks who otherwise might not get involved," said Keith.
Encouraging people to engage directly and personally visit the organizations they are considering supporting is also essential to their philanthropic vision. "Once we toured, it opened our eyes to what was going on at St. Marcus," said Mary in an interview with the school's team. "Keith and I became fascinated with what the school was doing. When we heard about the plans to expand with a third campus and knowing of the problems with education in our city . . . it spoke to us, and we knew we had to get further involved."
"St. Marcus is an extension of everything we have been doing. It is a well-run organization, and we are very impressed with the teachers and staff . . .You have to see it to believe it. If you did, you would support St. Marcus," Keith stated. "Once you meet the kids, it makes your gift real. You know who your gift is impacting."
When phase two construction is complete in the fall of 2022, the Mardak/Vandenberg Campus Gateway will provide a welcoming and secure entry way for the Harambee Campus, as well as a student commons and administrative space. The Harambee campus opened amid construction in fall 2021 to serve 150 scholars in K4-2nd grade. A grade level will be added each year until the school reaches its capacity to serve more than 600 scholars in K4-8th grade.
"We love Milwaukee," Mary added. "This city gave us the opportunity to lead well-rounded, successful lives. We want every child in this city to have that opportunity too."
All gifts and pledges up to a total of $500,000 will be matched through July 31, 2022.