Established in 1999, the Bill of Rights Institute (BRI) is an educational organization that teaches civics with the goal of equipping students and teachers to live the ideals of a free and just society. The Institute develops educational resources and programs for a network of more than 60,000 educators who reach an estimated 6 million students. billofrightsinstitute.org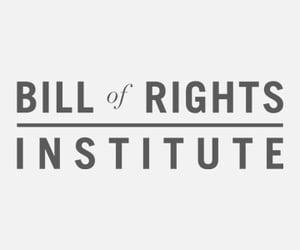 This has to be a joke," thought 16-yearold Cynthia Huang when the call came. The junior at Orange County School of the Arts soon realized, however, the voice on the other end was serious.
Cynthia's essay on natural rights was selected by a panel from the Bill of Rights Institute from among nearly 4,000 submissions from students in all fifty states, Washington, DC, Guam, Puerto Rico, and military bases worldwide. And while winning a national contest is a great honor, Cynthia is more excited about the grand prize, a $7,500 scholarship.
BRI's annual We the Students Essay Contest is one of several student programs designed to encourage students to reflect on the principles that are foundational to freedom. Other student programs include the MyImpact Challenge, which encourages students to lead local projects to improve their communities; Think the Vote, which brings students together from across the nation to discuss and debate key policy issues; and the Constitutional Academy, a summer program for high schoolers who are interested in government and civil society.
Since 1999, the Bill of Rights Institute has developed such programs and educational resources that help students like Cynthia examine the story of our country and exercise the skills of citizenship. Nationwide, nearly one out of every three secondary school teachers of American history, civics, and social studies uses BRI's resources in the classroom and participates in BRI professional development programs. BRI offers teachers market-leading curricula and in-person and online professional development, and teachers are never asked to pay for these valuable resources.
BRI's goal in all these projects is to help Americans to more perfectly realize the promises of our nation's founding. Given the state of civic education in US schools, their mission could not be more timely.