Above the Clouds and God Touch Milwaukee are creating opportunities daily in Milwaukee for people of all ages to find their passion and engage with community. Their founders have a gift for personal connection.
Small, local organizations are the foundation of a strong civil society. The personal relationships they nurture and the trust they build are essential in helping people navigate obstacles in their lives. Two Milwaukee organizations helping people meet the myriad challenges of an ongoing pandemic exemplify the importance of local institutions. Groups like Above the Clouds and God Touch Milwaukee are offering opportunities to connect which maintain a sense of community, purpose, and belonging that people in Milwaukee count on.
Above the Clouds: Not an Ordinary Arts Program

For nearly 20 years, Above the Clouds (ATC) has offered movement and creative arts classes, free of charge, to children in Milwaukee who would not otherwise be exposed to or have opportunities to participate in the arts. Founders Linda Wade and Barbara Melsheimer have successfully created a safe and loving atmosphere where children ages 5 through 17 can express themselves through drama, dance, martial arts, stepping, music and many more forms of art while learning about biblical principles. Their passion for sharing the arts has given their students confidence, purpose, and community. Many of their former students are now in college, and several have returned to ATC as instructors.
As the pandemic progressed, ATC began to offer socially distanced on-site and virtual programs, as well as virtual exercise classes for the community at large, through its own entrepreneurial venture, Moving Forward Milwaukee. This year, ATC has resumed a full schedule with reduced class sizes to keep students and families safe and engaged in the arts. Recently, ATC became a Milwaukee Ballet resident community partner. Its advanced ballet students now attend a free, weekly class with the Milwaukee Ballet in addition to their ATC classes.
"Children may be shy at first, but they become more confident, determined. They're focused on what they want to do."

Linda Wade
President & Co-Founder, Above the Clouds
The boundless energy at Above the Clouds comes to life in this short video featuring co-founders Linda Wade and Barbara Melsheimer.
God Touch Milwaukee: A Place of Restoration for Men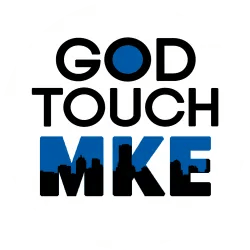 Pastor Marty Calderon continually finds ways to embrace struggling people in Milwaukee with dignity, respect, and strong faith. His current effort, God Touch Milwaukee, is a six- to twelve- month residential program for men coming off the streets or out of the prison system. At God Touch Milwaukee, residents are shown acceptance and love and given hope through faith-based teaching, mentoring, and hands-on practical opportunities such as employment and life skills. Strong faith is essential for the residents to turn their lives around.
God Touch Milwaukee is committed to remaining 100% donor supported. Free of restrictions that come with government funds, Marty and his team are able to serve people with different backgrounds and different struggles together. The close bonds that are formed help every resident to find solutions to his personal challenges. "It's a gift from God to me to reach the lost, to build relationships, to build trust," says Marty.
Marty excels at bringing people together in a spirit of peace. Nearly 20 years ago, he brokered a lasting truce between rival south side Milwaukee gangs, effectively reducing violence and saving lives. The Impact Fund joins The Bradley Foundation's long-term support of Marty's local leadership.
"We'll discuss where they're at spiritually, physically, if they have a job, if they're prepared to leave here, if they're strong enough to not go back to using drugs or alcohol, and most of all if they have a true, genuine relationship with Christ. At that point I know we've done what we needed to do here."

Marty Calderon Founder and Executive Director, God Touch Milwaukee