Foundation for Individual Rights in Education (FIRE) and National Association of Scholars are on the frontlines at college campuses across the nation to protect free expression of ideas from the threat of cancel culture.
The Cultural Marxism that took root on college campuses in the latter part of the 20th century caused and continues to advance cancel culture in American society today. Threats to freedom of thought, free speech, and the free expression of ideas that emerged from academia are now stronger than ever in higher education, underscoring the continuing importance of colleges and universities in this battle. Several Bradley Impact Fund grant recipients have put innovative strategies in place to support faculty and students that are fighting back against cancel culture and critical race theory.
Foundation for Individual Rights in Education (FIRE): Illuminating the Lack of Free Speech With Data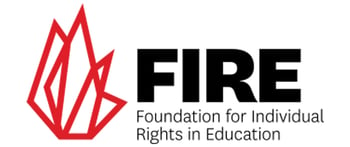 FIRE's mission is to defend and sustain the individual rights of students and faculty members at America's colleges and universities, including freedom of speech, freedom of association, due process, legal equality, religious liberty, and sanctity of conscience. FIRE reaches millions on and off campus through education, outreach, and college reform efforts. The organization brings about favorable resolutions for individuals facing rights violations and for the millions of other students affected by the culture of censorship. FIRE works across the nation and in all forms of media to empower campus activists, reform restrictive policies, and inform the public about the status of rights on campus.
In 2020 FIRE released its first-ever College Free Speech Rankings, a comparison of the student experiences of free speech at 55 of America's largest and most prestigious colleges and universities. By illuminating campus climates through the largest free speech survey of college students ever performed, FIRE's data helps support policy change in higher education institutions nationwide. If you are interested in supporting FIRE's College Free Speech survey at a college or university important to you, please contact the Impact Fund today.
FIRE's college free speech rankings are based on a variety of factors including openness, tolerance, self-expression, administrative support for free speech, and campus policies. The report is available here.
National Association of Scholars: Fighting for Academic Freedom and Historical Accuracy
The National Association of Scholars (NAS) seeks to reform higher education through individual advocacy, research reports, and public advocacy. It upholds the standards of a liberal arts education that fosters intellectual freedom, searches for the truth, and promotes virtuous citizenship. The organization defends the academic freedom of faculty members and students; investigates issues affecting academic freedom, the integrity, purpose, and neutrality of the university and publishes its findings as in-depth reports; and educates the public about policies and legislation that would preserve the liberal arts and protect academic freedom.
In 2017, the National Association of Scholars brought worldwide attention to the existence on campuses of China-funded Confucius Institutes, a powerful, deliberately hidden network influencing American higher education. After exhaustive research, NAS determined that since 2004, the Chinese government has planted the Confucius Institutes on more than 100 campuses in the United States. These Institutes avoid Chinese political history and human rights abuses, portray Taiwan and Tibet as undisputed territories of China, and educate American students to know only the regime's official history.
NAS resistance led to regulations under the Trump administration requiring American universities to disclose foreign ties and funding that have since been revoked by the Biden administration. However, NAS supported joint letters by the U.S. Departments of Education and State urging American education leaders to resume investigating the potential dangers of Confucius Institutes at their schools.
National Association of Scholars President Peter Wood discusses why it is essential to respond to historical inaccuracies like those in the 1619 project in this video from The Bradley Foundaton's We the People video series.