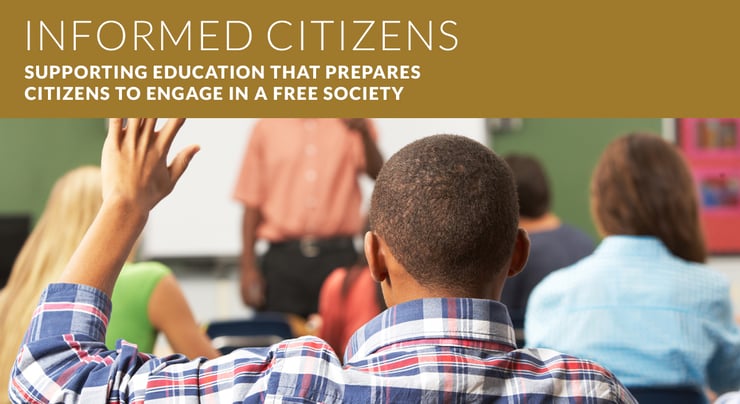 Bradley Impact Fund donors can support educational efforts to help citizens understand the character, habits, and knowledge needed to succeed in a free society. At the 2020 Bradley Impact Conference, panelists for Parents, Pipeline, Policy, and Physical Space—COVID-19 and Parental Choice in K-12 Education spoke about advancing K-12 school choice, from ideas to implementation. They agreed with guest speaker U.S. Secretary of Education Betsy DeVos that funding should follow the student. If there could be a silver lining to the pandemic, it is the vital opportunity to reenergize the school choice movement:
During Pandemic Consequences—Opportunities in Higher Education, panelists discussed new opportunities to change direction on campus. The financial crisis posed by COVID-19 may increase the accountability of college administrations. The switch to online classes could release the stranglehold of universities on intellectual freedom. Dr. Vincent Phillip Muñoz, University of Notre Dame, observed, "We shouldn't give up on universities. What we need for the health of America… is to get kids hungry to learn, to be with good books and good teachers – that is how we will save this country and the next generation."
FOUNDATION FOR INDIVIDUAL RIGHTS IN EDUCATION defends and sustains the individual rights of students and faculty members at America's colleges and universities.


NATIONAL ASSOCIATION OF SCHOLARS upholds the standards of a liberal arts education that fosters intellectual freedom, searches for the truth, and promotes virtuous citizenship.


UNIVERSITY OF NOTRE DAME offers an undergraduate minor through its Constitutional Studies Program that seeks to cultivate thoughtful and educated citizens that possess certain virtues; they must understand and be able to implement, defend, and, if need be, reform constitutional institutions.